Useful Stitching Information
Tapestry (mostly referred to in the US as Needlepoint) is a form of canvas work. Normally worked in tent stitch (similar to half cross stitch) - the canvas will usually be printed with a colour image of the design but sometimes the design can be followed from a chart. Stitchers use different coloured wools or thread to cover each area with the corresponding colour on the canvas or chart. The types of stitching and threads used on the canvas make it more durable than surface embroidery or cross stitch. Finished works may be made into cushions or upholstery or may be displayed on the wall, framed or unframed.
Cross-stitch
is one of the oldest forms of embroidery and can be found all over the world. It is a popular form of counted-thread embroidery in which X-shaped stitches are used to form a picture. Cross-stitch is usually executed on easily countable fabric known as Aida or Evenweave. The stitcher counts the threads in each direction so that the stitches are of uniform size and appearance. This form of cross-stitch is also known as counted cross-stitch. Sometimes cross-stitch is stitched on a printed fabric where the stitcher simply stitches over the printed design but most kits include a detailed black and white or colour chart with small symbols in each square and a key for you to follow.
Embroidery
uses a variety of different stitches and are great fun to stitch, they are usually stitched on a linen mix fabric. The kits can be made into pictures or the larger designs could be made into decorative cushions. Examples of different hand embroidery stitches can be seen
here.
Blackwork
is a traditional English embroidery technique, originating around about the 15th century. The stitches are usually short lines which you follow from a chart and it is stitched on plain aida fabric. The results can be stunning, delicate pictures.
Helpful advice for beginners
We try and be detailed in our descriptions but we may sometimes use terms that beginners to stitching may not be familiar with. The most frequent queries we receive relate to the information below so hopefully this will help.
Common Stitching terms explained:
Aida - usual type of fabric used in our cross stitch kits
14 count, 10 count etc' - This is the number of stitches used per inch of fabric
14hpi, 10hpi etc. - as above - hpi stands for 'holes per inch'.
Canvas - Material generally used for Tapestry designs - usually printed in full colour.
Evenweave or Aida ?
- Some brands (such as
Heritage Crafts
) offer a choice of stitching using 14 count aida or 28 count evenweave fabric. Although 28 count evenweave has more holes per inch it is stitched 'over 2 threads' so the design is the same size once stitched as if on 14 count aida. Most people start off stitching on aida as the holes are clearer to see, with evenweave you need to count the threads so it is slightly more difficult. However as the holes are less defined the resulting work can have a better effect, especially if there is alot of the design left unstitched. Evenweave is also often softer than Aida.
Different makes of cotton threads
Our cross stitch kits are usually stitched with cotton threads, these may be referred to as their brand names such as:
Anchor, DMC, Madeira etc. They all generally produce the same result. Occasionally we may refer to 'metallic' threads, these are used to add sparkle to a design and can be difficult to master so best for experienced stitchers.
Different makes of wool
Our tapestry kits are generally stitched using wool on canvas to give thicker coverage which is why tapestry designs are suitable to be made into upholstery items such as cushions and seat pads. As above, we may refer to wool brand names such as Appleton's, Brigantia, DMC and Anchor.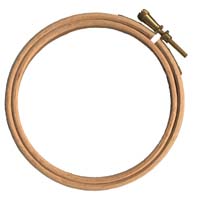 Tools
Designs can be easier to stitch using a hoop or a frame to hold the fabric - these are available in different sizes and can be purchased in our
Needlecraft Frames
category. All kits include everything else required such as needle, threads and fabric.